Enduro Engineering Products
Axle Pulls
Bar Risers
Brake Pedal Tips 45mm
Clutch Slave Cylinder Guards
Complete Seats
Disc Guards
Grip Heaters
License Plate Holders
Lower Right Fork Leg Guards
Radiator Guards
Spark Arrestor End Caps
Tools
CLOSEOUT

Evolution Handguards and Shields for:
Renthal, Neken and Pro Taper EVO and Contour FatBars
Fat Bars measure 1 1/8" in the center clamp area, and taper down to 7/8" on the ends.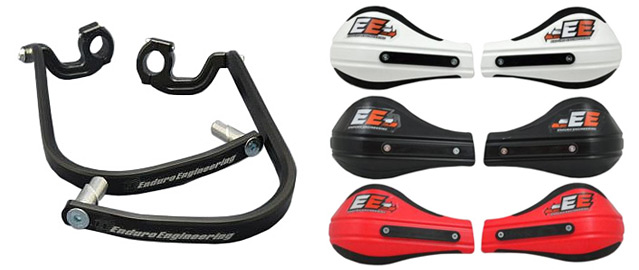 The
EVO2 Handguard Clamps
feature "U" shaped mounts to provide additional clearance for hydraulic lines and control cables. The unique bend on the inner end of the Evolution handguards allows the handguards to be mounted at any angle the rider desires. The Evolution handguards are also ideal for late model KTMs.
Enduro Engineering's new
EVO2 Outer Mount Plastic Roost Deflectors
can be used on Evolution handguards, Traditional handguards and open ended Composite Moto Roost Deflectors. Outer Mount Deflectors do not require any drilling for installation.




Black EVO2 Debris Deflectors EE-505214B for:
Renthal/Neken/Pro Taper EVO and Contour FatBars
Includes left and right bars w/bar end hardware and bar clamps.
Shields sold separately below



$61.95


MSRP $67.95



Silver EVO2 Debris Deflectors EE-505214S for:
Renthal/Neken/Pro Taper EVO and Contour FatBar
Includes left and right bars w/bar end hardware and bar clamps.
Shields sold separately below



$53.95


MSRP $59.95



EVO2 Plastic Outer Mount Roost Deflectors
White (EE-51220)
Black (EE-51224)
Red (EE-51226)
Easy Installation with two bolts on the front with Front mounting plate.
Deflector Dimensions: 5 1/2" tall x 9 1/2" wide. No drilling required.





$23.95




MSRP $24.95
Grip Heaters
For use on any motorcycle or ATV with a battery and charging system or a lighting coil.




Go to Grip Heaters Page
Giant Loop / Fastway-Pro Moto Billet Handguard Shields
Install over rigid handguards/deflectors and heated grips for the ultimate protection against the elements.





Go to Handguard Shields
Bar End Mount Kits
Fastway Threaded Bar End Insert Conversion Kit
Handguard Bar End Set fit most alloy or steel handlebars and Renthal Twinwalls
G2 Nylon Bar End Mount Kit



Go to Bar End Mount Kits
Handguard Mounts
Fits all 39 - 41mm spacing - Oversized handlebar mounts. Kit includes all necessary hardware.
BRP-HGMounts




Go to BRP Handguard Mounts
G2 Billet Grip Protector Kit
For aluminum handlebars only.
G2-60350



Go to G2 Billet Grip Protectors







EVO2 Debris Deflectors - Renthal/Neken/Pro Taper EVO and Contour FatBars




Full Wrap Aluminum Debris Deflector
Attaches in the end of the handlebar using taper locks and clamps towards the center of the handlebar creating a full wrap around hands and levers
EVO2 Design has special clamps and bar bends to give more room for Controls
Designed to help Deflect Debris away from hands and levers
Helps protect levers in the event of a crash
Fits Renthal FatBar/ Neken 1-1/8" Handlebars/ Pro Taper 1-1/8" Handlebars
Sold in Pairs


Black EVO2 Debris Deflectors for: select 2010 KTM/Neken FatBar EE-505214B (50-5214B)
Silver EVO2 Debris Deflectors for: select 2010 KTM/Neken FatBar EE-505214S (50-5214S)

EVO2 Plastic Outer Mount Roost Deflectors




White EE-51220 (51-220)
Black EE-51224 (51-224)
Red EE-51226 (51-226)