Phone

Hours

Showroom Hours

CycleBuy - Albany

Monday to Friday - 9 am to 6 pm PST

Monday - 12 pm to 6 pm PST

1116 S Commercial Way SE

Phone: 541-928-3390

Tuesday - 10 am to 6 pm PST

Albany, Oregon 97322 USA

888-284-4588 (Toll Free)

Wednesday - 10 am to 6 pm PST

(between Eugene and Salem on I-5)

X

Thursday - 10 am to 6 pm PST

Phone: 541-928-3390

Customer Service

Friday - 10 am to 6 pm PST

888-284-4588 (Toll Free)

Email:

Sales@CycleBuy.com

Saturday - By Appointment Only

Email:

Sales@CycleBuy.com

Sunday - Closed
Our address is:
1116 S Commercial Way SE, Albany, Oregon 97322 USA
(between Eugene and Salem on I-5)
Phone: 541-928-3390 or 888-284-4588
see map here
CycleBuy.com was established in 1997
as a small web based business that helped consumers save money when purchasing a new motorcycle, ATV, or watercraft. Since that time, we have grown into a major force in the offroad motorcycle accessory industry. KTM, Husqvarna, and Husaberg motorcycles and accessories are our specialty, but we also have Hondas, Yamahas, Kawasakis, Gas Gas Pamperas, and a KTM Adventure 990 2008 in our garage.
We stock what we sell! Over 90% of our incoming orders ship complete the same day.
If the item is tagged with a green bar on our web site, it should be able to ship that day.
We are dirt bike junkies, just like you
.
We all ride regularly. Some of us are converted motocrossers, or road racers, but we
all share a passion for riding dirt bikes and consider ourselves lucky to be able to make a living talking to people who share the same passions we do. We have a very simple philosophy; "If we wouldn't use an item on our own bikes, we won't sell it to our customers.";
If you have questions on a product, call us. If we sell it, it's on one of our bikes and we will gladly answer any questions you have.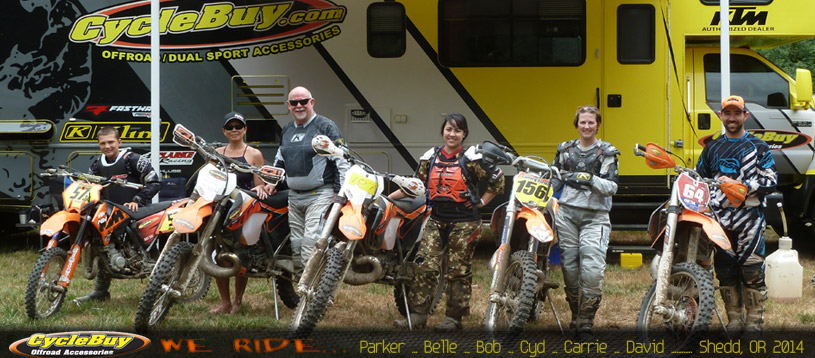 Over the past 16 years,
CycleBuy has become a leading dealer in the USA for Rekluse auto clutches, Enduro Engineering products, as well as handguards, kickstands, footpegs, and the other great products from Pro Moto Billet/Fastway Performance. In addition, we are a top selling dealer for Clarke gas tanks, IMS Products, Flatland Racing, G2 Ergonomics, Acerbis, Ohlins stabilizers and many others.
We stock what we sell. Well over 80% of our orders ship complete the same day they come in. If it isn't on our shelves, there is a good chance we can have it shipped directly to you from one of our suppliers. We are also a dealer for Western Power Sports, Tucker-Rocky Distributing, and Parts Unlimited. Western Power Sports and Tucker-Rocky Distributing will drop-ship for us if necessary, so if you need something you don't see on our web site, let us know.