Standard



From

$449

Sub-Mount



From

$479
Call for details or to order.
There are many variables and we want to make sure you get all the right parts with your order.
Please help us get your order right the first time. We need to know the year, make, and exact model of your machine. If your motorcycle has an aftermarket top triple clamp, we need to know what brand it is AND what position (forward, back, etc.) your bar clamps are mounted in. If you have oversize (1 1/8") handlebars, please tell us, so we get you the correct parts.
Scotts Steering Stabilizers - Larger Images

Standard Stabilizer Kit: Bolts on and clamps around the head tube. Each kit is specific to each bike with consideration for which combination of bars and triple clamps are being used.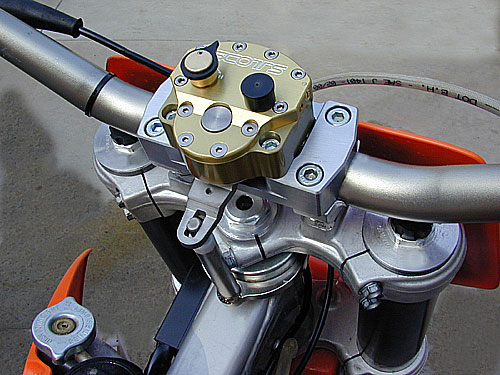 Sub-Mount (Stabilizer Under Bars) kits allow more room for other equipment such as a GPS units or computer equipment and still allow quick access to adjust the stabilizer. SUB-mount kits usually raise the handlebar mounting position by about 1 inch which is popular with most riders. The black KTM-style SUB-Mount uses the stock KTM bar mounts and allows the rider to choose between bar positions 3 or 4.

(stabilizer shown with optional large knob)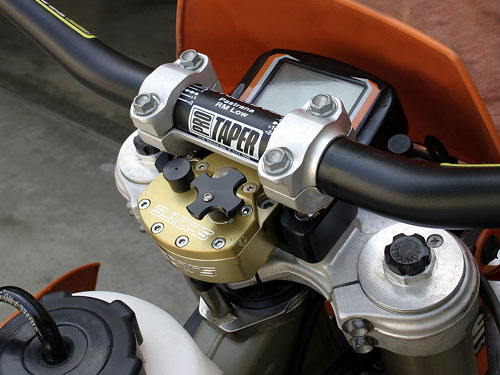 Complete CRF Stabilizer Kit using the conversion to oversize bars with the stock triple clamp.
(stabilizer shown with optional large knob and black bar clamps)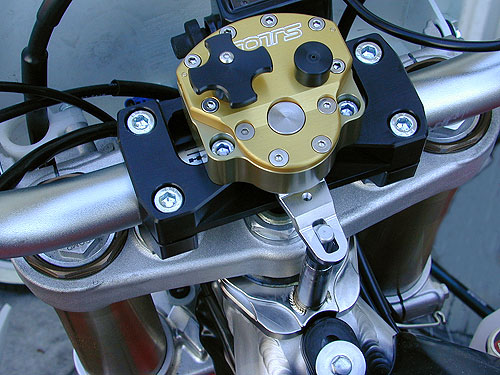 CRF / YZF style SUB-Mount Kit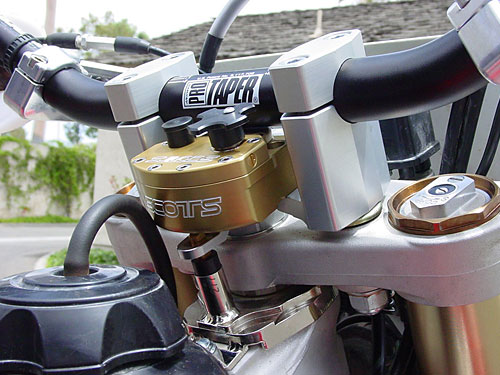 Bolt-on SUB-Mount Triple Clamp Kit: Use this kit for bikes that do not have "removable bar mounts" such as 1998-2005 YZ/YZ-F/WR models or earlier CR models. This kit requires oversize handlebars. There is an optional bar reducer kit to adapt 7/8" diameter bars to these oversize mounts. The complete kit includes all necessary hardware and detailed instructions for easy installation.
(Kit shown may not be your actual model but depicts what comes in the kit).