"What is an Auto Clutch?"
more info here

Core EXP, EXP and z-Start Pro are all Auto Clutches. An Auto Clutch is a centrifugal force actuated clutch that automatically engages and disengages the clutch in relation to RPMs. The Auto Clutch automatically feeds out the clutch in the same way you feed out the clutch lever when starting from a stop. The rider only needs to turn the throttle to increase RPMs, to engage the clutch and go.
It is not an automatic transmission, you must shift the gears.
The benefit is that the Auto Clutch will do the "feed" automatically and consistently, allowing you to be free to focus on other aspects of your riding. All three Rekluse Auto Clutches for dirt bikes allow retention of one's clutch lever to manually override the Auto Clutch at all times. As with any standard clutch, the rider can still "feed", "fan", "slip" or "pop" the clutch and do motocross style starts. Rekluse Clutches are performance enhancing for full sized bikes and ATV's.
Rekluse clutches feature centrifugally activated anti-stall technology. These innovative dirt bike products:

Provide the ability to take off and stop in gear without using the clutch lever

Deliver smooth power engagement and increased traction

Improve low speed/technical maneuvering

Enhance your riding experience by making it more fun and less demanding

Extend the life of your clutch pack
How does a Rekluse Clutch work?


A traditional manual clutch uses springs to push a pressure plate into the clutch disks to keep the clutch always engaged until the rider pulls in the clutch lever. Pulling in the clutch lever pushes the pressure plate away from the clutch disks to manually disengage the clutch. An automatic clutch keeps the pressure plate away from the clutch disks when the engine is off or at idle. When the throttle is applied and the engine speed increases, a centrifugal device within the clutch expands, engaging the clutch disks.
Which clutch is right for you?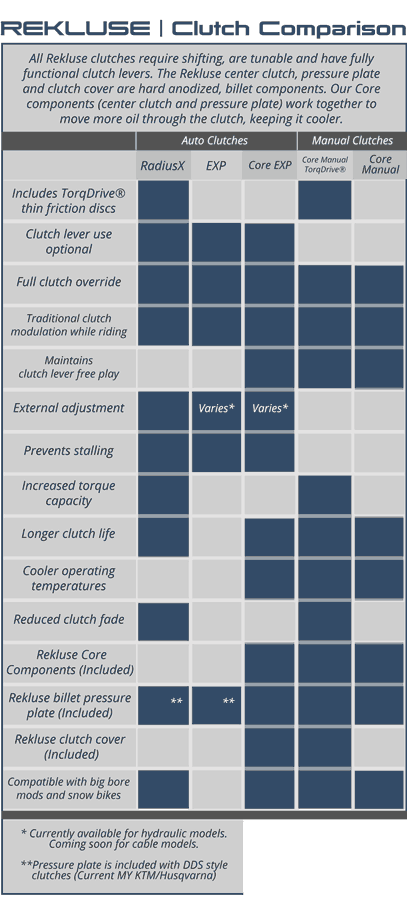 30 Day Demo Ride
--------------------------------------------------------------------------

See for yourself.
Ride with one of our Rekluse Auto Clutches for dirt bikes in your bike, on your terrain, in the conditions that you are familiar with, and if after riding you do not agree that it has significantly improved your riding performance and fun factor we will refund your full purchase price upon return of our product within the first 30 days of purchase. Products that qualify are: Rekluse Core EXP, EXP and
z-Start Pro. Purchase price refund will be issued upon receipt of the product. Please call Rekluse at 1.866.735.5873 for return instructions.

Warranty:
Rekluse provides a 1-year warranty from date of shipment for materials and workmanship when the Rekluse product is installed per Rekluse instructions into a stock bike set-up. Rekluse will repair, replace, or pro-rate a refund for any product found to be defective in materials or workmanship at its sole discretion within the 1-year warranty. Rekluse is not liable for personal property loss, parts loss or damage by use or misuse of any product Rekluse sells or manufactures. Any attempted repairs or modifications made to Rekluse products will void any and all warranties.
--------------------------------------------------------------------------