G2 Products
Throttle Cam System
Quick-Turn Throttle
Replacement Tubes/Cams

G-2 Throttle Tamer
The G2 Tamer Throttle works wonders for smoothing out the on/off throttle abruptness of some fuel injected bikes. KTM Adventure riders and Aprilia owners have great things to say about this throttle. Other popular applications are the ST 1300 and FJR 1300 kits which are available by special order. The Tamer Throttle kits come with the 400 cam - use for slippery, technical, tight trail conditions.
15-20% slower
throttle opening during the first 1/3 of throttle opening, same overall rotation from closed to full throttle.

| | | |
| --- | --- | --- |
| | | |
We are now shipping the NEW G2 Delrin insert throttle tubes. These Delrin inserts make this throttle tube feel like it is on ball bearings. No lube required!



4-Stroke Throttle Tamer Tube - KTM / Husqvarna - G2-404XKK
Fits KTM/Husqvarna 4-Strokes 2017-18 + KTM 2016 250/350/450 SX-F/XC-F and HQV FC/FX


$69.95



4-Stroke Throttle Tamer Tube - KTM - G2-40310
KTM 250-990/1190 4-Strokes all years


$69.95



4-Stroke Throttle Tamer Tube - Honda - G2-404F136
Honda RC51 RVT1000R 2000-06, ST1300/A/PA 2000-10, CBR600RR/RA 2003-10, CBR1000RR/RA/R 2004-10, CBR1100XX 1997-03, VFR800 2002-10, CBR600F4 2001-02, CBR900RR 2002-03


$69.95



4-Stroke Throttle Tamer Tube - Suzuki - G2-404F136-S
Suzuki DL650 ABS/NON-ABS 2007-10, GSX-R600/X 2004-07, GSX-R750/X 2004-07, GSX R1000 2005-06, Bandit GSF1250SA/ABS 2007-10, GSX1300R 2008-10, GSX R1000 2007-08, GSX-R750 2009-10, GSX-R600 2009-10


$69.95



4-Stroke Throttle Tamer Tube - Yamaha - G2-404Y142
Yamaha FJR 1300 2003-11


$69.95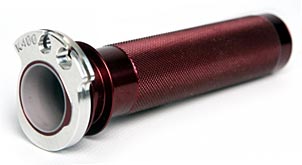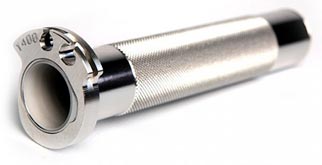 G2 Throttle Tamer - Product Description / Info
G2 Challenge:
Offer one throttle set-up for best overall performance in all offroad conditions.
G2 Solution:
The Throttle Tamer.

The Throttle Tamer incorporates a non-linear ratio between hand throttle rotation and carburetor or throttle body opening. The "pulley";, or as we call it, "cam"; pulls the throttle cable as the rider rotates the grip/tube. By altering the conventional, circular shaped cam, a vast improvement in control is achieved.

The Throttle Tamer has a cam with a reduced radius initially, which requires a slightly farther rotation to achieve the same carburetor or throttle body opening position as a stock throttle. This slightly longer pull makes a HUGE difference in control as the power is rolled on and the rider searches for traction. The radius increases or "ramps up"; after ½ throttle to keep overall rotation requires to reach full throttle at or near stock rotation.
G2 Key Points:
Machined from 6061 aluminum in the USA!

Self-lubricating Delrin bushings at each end of tube eliminate aluminum-to-aluminum contact and provide an ultra-smooth feel.

Included cams: A 400 cam that starts out approximately 15% smaller than stock.

Fits inside the stock throttle housing to stock cables.

Removable end cap for simple handguard installation.

Installs in minutes!