G2 Products
Throttle Cam System
Throttle Tamer
Replacement Tubes/Cams

Quick Turn Throttle Tube
The G2 Quick Turn Throttle allows a rider to quickly get to full throttle with less wrist motion and eliminates the need to "double-grab" on some bikes. The G2 Quick Turn throttle 8-10% FASTER throttle opening. Ideal for supermoto use and is highly recommended for aggressive 250F riders on tacky or sandy tracks that allow full throttle use.

Installation:

Replace the stock tube with no modifications. Removable end cap for handguard or grip protector installation.
We are now shipping the NEW G2 Delrin insert throttle tubes. These Delrin inserts make this throttle tube feel like it is on ball bearings. No lube required!


4-Stroke Quick Turn Throttle Tube - KTM - G2-50300D
KTM 4-Strokes

2000-15




$69.95


4-Stroke Quick Turn Throttle Tube - Honda - G2-50100D
Honda CRF 250R/450R and 250X/450X

2002-15




$69.95



4-Stroke Quick Turn Throttle Tube - Yamaha / Suzuki / Kawasaki - G2-50200D
Yamaha YZF/WR 250/400/426/450 1998-2015
Suzuki RM-Z 250 2004-06, RM-Z 450 2005-06
Kawasaki KX-F 250/450 2004-15, KLX 450R 2008-11


$69.95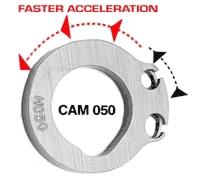 Product Description:
G2 Challenge:
Increase throttle response and decrease throttle rotation (less turn).
G2 Solution:
The Quick Turn Throttle Tube.

The Quick Turn Throttle Tube consists of the ultra-smooth G2 tube with Delrin inserts fitted with a throttle cam (or "pulley";) approximately 10% larger than stock. This translates into about 10 degrees less "twist"; necessary to reach wide open. To put this into perspective, a 3% change is noticeable, so a 10% increase will make a significant difference!

Increasing the size of the throttle cam will improve your riding in several ways. First, your bike's power characteristics will seem far more responsive --- as you turn the throttle, your bike will rev faster than before. Secondly, less overall rotation is required to reach full throttle. This is a huge benefit to riders with limited wrist mobility. In addition, less rotation allows you to more easily maintain a proper riding position with less elbow drop as you crank the throttle.
G2 Key Points:
Machined from 6061 aluminum in the USA!

Self-lubricating Delrin bushings at each end of tube eliminate aluminum-to-aluminum contact and provide an ultra-smooth feel.

Included cam is removable and can be replaced with alternate cams (sold separately) to fine tune control.

Fits inside the stock throttle housing to stock cables.

Alternate cam at 20% larger sold separately.

Removable end cap for simple handguard installation.

Installs in minutes!