Shorai Lithium-iron batteries provide extreme current and voltage performance, delivering more energy faster with less size and weight, and less damage to the battery per start cycle than any other brand or technology.
Shorai batteries are about 75% lighter than comparable lead-acid batteries and hold a charge for up to a year without charging or maintenance. Shorai Lithium batteries are an excellent choice when it comes time to replace the battery in your dirt bike, street bike, snowmobile, watercraft, ATV, lawn tractor, or any other application using a lead-acid battery.
Install Guide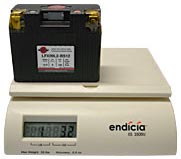 Shorai battery weighs 1 lb. 3.2 oz.
Holds charge for one year without maintenance

Two to four times the service life of lead-acid batteries

Drop-in replacement for your OEM battery

Military spec Carbon Fiber Composite Case

Faster cranking for better starts

2-year warranty from Shorai

Ultra light. One fifth the weight of lead-acid batteries on average

Super-fast recharge rate

SAFE - No explosive gases during charge, no lead, no acid

Environmentally friendly, just discharge and dispose

Japanese engineering and components

TruGel battery weighs 4 lb. 14.4 oz
Shorai batteries come with an industry leading two year warranty, and are available in either 6 or 12 volt models with pole polarity suited to any motorcycle. Each battery comes with a variety of adhesive backed foam sheets to help fit the battery to its compartment if it is smaller than your original battery.