Motion Pro Products

Bearing Tools

Fork Tools

Micro Bleeders

Misc Products

Misc Tools

Rim Locks

Throttle Cables

Tire Tools

Tire Changing Stand

Wrenches

Chain Tools



Chain Master Link Press Tool
Easily presses on and off master link plates for clip style chains. Maximum master link width 24.8mm. Works on most 50 series chains.
MP-08-0675




$31.99




MSRP $34.99



PBR Chain Breaker
Presses, break and rivet 520, 525, and 530 chains with one convenient tool. Remove chain pins, press master-link plates and rivet hollow nose and soft nose (quad stake) master link pins on O-ring and non O-ring type chains.
MP-08-0470




$94.99




MSRP $104.99



T-6 Chain Breaker and Chain Press Tool
Light weight at 6 oz., with pouch 8 oz.
MP-08-0358




$80.99




MSRP $89.99



Masterlink Pliers
Removal of clip-type master links
MP-08-0230




$20.99




MSRP $21.99



Heavy-Duty Chain Breaker Tool
Compact 4" with folding handle
MP-08-0001




$26.99




MSRP $29.99
Chain Master Link Press Tool (MP-08-0675)
Features:

Easily presses on and off master link plates for clip style chains


Works on most 50 series chains


Maximum master link width 24.8mm


Will not damage master links


Hardened steel pins for reliable use


Light weight billet aluminum construction


Durable blue anodized finish with laser engraved markings


Not for use in breaking rivet master links


Original Motion Pro Design
PBR Chain Breaker (MP-08-0470)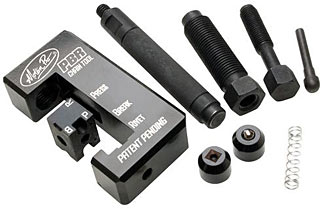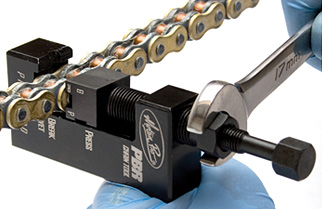 Features:

Innovative design will Press, Break and Rivet 520, 525, and 530 chains with one convenient tool


Versatile design will remove chain pins, press master-link plates and rivet hollow nose and soft nose (quad stake) master link pins on O-ring and non O-ring type chains


Easy to use design allows you to change tool functions by simply moving the position of the anvil block


Indexing letters on movable anvil and body insures correct tool configuration. Simply line up the letter on the anvil to the letter on the body to get the configuration you need!


All components conveniently store on tool when not in use


All steel construction with heat treated components for strength and durability


May be supported in a vise or held with included handle


Great for the professional technician or DIY mechanic


Compact and light enough to carry in a tool bag for trail side repairs


Includes spare pin


Patent pending
T-6 Lightweight Chain Breaker and Chain Press Tool (MP-08-0358)
Features:

For breaking 520 to 530 chain


For pressing on and off 520 and some 525 clip type master link side plates


Includes 1/4 in. drive adapter for turning sockets


Light weight, 6 oz. including press plates and handle (8 oz. with pouch)


Will push link pin completely through link/side plate


Handle detaches for easy storage. To reduce the weight even more an MP Tool (08-0161), 8 mm combination wrench or an 8 mm socket with extension can be used as the handle


Custom pouch holds tool securely and includes pocket for extra chain or master links and a large accessory pocket


Body forged from high-strength 4130 chrome-moly


Body bolt and extractor bolt manufactured from billet high-strength 7075 T-6 aluminum


Replaceable pin is heat treated for strength and wear resistance


Press plates manufactured from light weight 6061 T-6 aluminum


Perfect addition for tool packs


For use on clip type master links with press fit side plates only


Does not rivet master link or chain pins
Masterlink Pliers (MP-08-0230)
Features:
Designed to simplify installation and removal of clip-type master links
One tip is shorter and notched to be placed on the pin which allows the longer end to push the clip
Heavy-Duty Chain Breaker Tool (MP-08-0001)
Features:
Fits 420 to 530 chain
Will push link pin completely through link / side plate
Handle folds away for easy storage
Durable drive pin is heat treated for strength and wear resistance
Will not work on EK 530 MVO/MVX chain
Max pin extension to drive out chain links is 18mm. The maximum pin extension required to drive out the chain link is determined by measuring your chains width from outside face plate to outside face plate.