Trail Tech Products

Digital Gauges / Protectors /

Comparison

Kickstands KTM Digital Fan Kits Motorcycle Headlight Kits CLOSEOUT SALE! Switches






Striker Kit / Protectors / Mounts





Knowledge is power.

Don't get stuck on the trail not knowing if your vehicle will be able to start again. The Striker Digital Gauge with Speedometer and Volt Meter displays your vehicle's battery voltage and has programmable LED indicator lights to warn you when the charging system is overwhelmed. This is the perfect choice for electric start vehicles or any Powersports rider who wants to run multiple accessories.

Keep track of your speed, distance, and time of day; as well as important maintenance reminders and engine temperature. Striker builds on the 10 years of experience Trail Tech has in making model-specific gauges for motorcycles.

Speed/Distance
Clock/Stopwatch
Odometer
Vehicle Battery Voltage
Model-Specific Kits
Programmable LED Lights
Availability Guide

: If you order an item that is on backorder, we will not charge your card until the order is ready to ship.

cyclebuy
= Normally ships the same business day
= Special order, ships in 4 to 7 business days
= On backorder from the manufacturer
| | | | |
| --- | --- | --- | --- |
| | Striker Kit - KTM / Husqvarna / Husaberg | Cost | Add To Cart |
Striker Kit 111 (TT-712-111)
KTM 2017-18 EXC/XC/XC-W
KTM 2016-18 SX/SX-F/XC-F
Husqvarna 2017-18 FC/FX 250/350/450


$149.95
Striker Kit 110 (TT-712-106)
KTM 200/250/300/350 XC/XC-W/XCF-W/EXC 2008-16
KTM 250R FREERIDE 2014-17
KTM MXC/EXC/XC-F/XCF-W/SMR (EXCEPT 2016 XC-F) 2003-16
KTM XC/XC-W 200/250/300 2008-16
KTM SX/MXC/EXC/XC/XC-W 2000-15
---------------------------
HUSQVARNA FC 250/350/450, FE 250/350/450/501, TE 250/300 2014-16
HUSQVARNA TC/FC 125/250/350/450 2015-16
HUSQVARNA TE 250/300/310/400/449/511/610 2009-16
HUSQVARNA TXC 250/449/450/511 2008-15
HUSQVARNA CR/TC 125/250/449/450 2009-15
HUSQVARNA WR 125/250/300 2009-15
---------------------------
HUSABERG TE 125/250/300 2011-15
HUSABERG FE/FX 390/450/570 2009-15
HUSABERG FE 250/350/500, TE 250-300 2013-14
HUSABERG FS 570 2012
HUSABERG 501E 2000-08


$149.95
Striker Computer Remote Switch - optional
43cm black wire. (Not included in Striker computer kits)
TT-8500-RS

$22.99
MSRP $24.99
Vapor/Striker Front Triple Clamp Protector (KTM)
Fits most offroad models KTM

1998-current

, Husqvarna

2015-current

, Husaberg

2005-14


Mounts computer to front of triple clamp of most offroad motorcycles. Adaptable for mounting to any flat surface.

(Computer sold separately)


TT-022-SO
$59.95
Vapor/Striker Mounting Bracket, (KTM/Husaberg) Vertical Surface Attachment
TT-022-OEB
$9.95
Vapor/Striker Top Mount Protector
Fits most bikes with 90mm to 106mm width handlebar bolt spacing. Mounting "ears" are even with the top of the Protector. Durable billet aluminum protective case. Mounts using bar clamp pinch bolts. May require extra length bolts.

(Computer sold separately)


TT-022-TM
$59.95
Vapor/Striker Indicator Light Dashboard Protector
Protects and places it in an optimum viewing position. Includes mounting bracket (022-OEB) installs easily to triple clamp of most motorcycles. Includes 8 indicator lights for customization: low beam, high beam, turn arrow left, turn arrow right, turn arrow left and right (hazard), oil, N, R.

(Computer sold separately)


TT-022-PDA
$59.95

Trail Tech Striker Kit - Larger Images and Info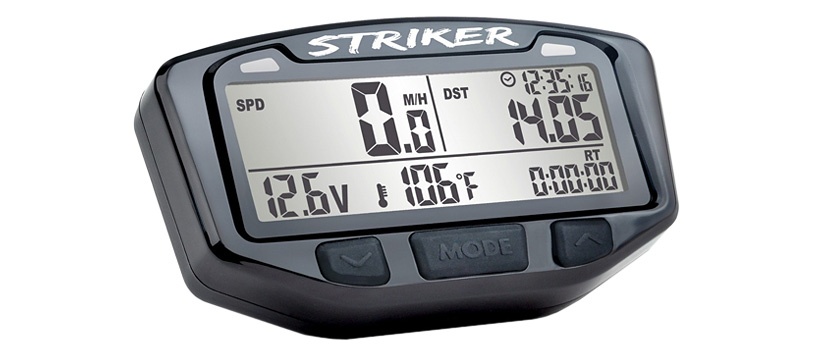 Striker User Guide
Striker Quick Start Guide (010-ELV-196)
Striker Kit Package includes:
10mm Fin Sensor (7500-3006), Magnet Kit (100-01), Wheel Sensor (101-06), Mounting (9000-1000), and Power Lead (9000-1011).

Don't get stuck on the trail not knowing if your vehicle will be able to start again due to electrical issues.



The Striker speedometer/voltmeter digital gauge displays your vehicle's battery voltage and has programmable LED indicator lights to warn when the charging system is overwhelmed. Striker is the perfect choice for electric start vehicles or anyone who wants to run multiple accessories.



At only 4.2 x 2.3 inches, Striker can replace a dashboard's entire instrument panel. Striker displays speed, voltage, trip distance, clock and both ambient and engine temperature. Striker also keeps track of the minimum and maximum voltage values (reset trip data to start fresh max values.) Use the built-in stop watch for time trials. Two separate maintenance timers OIL and WRENCH keep track in miles-since-last-reset.



Installation is easy. Striker kits include handlebar mounting hardware, or add an aluminum dashboard accessory. Use the model specific instructions to install Striker's sensors to the vehicle and customize Striker for wheel size and thresholds for the voltage over/under warning lights. Striker can operate on regulated AC or 12V DC electrical systems, so it works on almost anything with a wheel.



An indicator dashboard accessory (022-PDA) is available if indicators are required, providing space for 4 indicator lights such as neutral and high beam.



Striker's small size and ability to display and predict potential electrical problems on almost any vehicle makes it a great choice for many applications.
VOLT
- Voltage - Maximum Voltage - Minimum Voltage
SPEED
- Speed - Average Speed - Maximum Speed - MPH/KPH
TEMP
- Engine temperature - Ambient Temperature - Maximum Engine Temperature - Temperature Alert LED's - Model-Specific Sensors - °F / °C
DISTANCE
- Trip distance - Odometer - Adjustable Distance - Miles / Kilometers
CLOCK
- Hour Meter - Ride Time - Stop Watch - Accumulated Ride Time - 12 or 24-Hour Display
POWER
- White backlit LCD display - Accepts AC/DC Input - Auto-switch to Internal Battery - Permanent Memory - Data is never lost - Waterproof Design
MAINTENANCE
- Oil Reminder - Adjustable Maintenance Reminder
PLUS
Remote Switch Compatible - Model-Specific Sensors - Custom Design Kits for Exact Model Fit -
Unlimited Phone and Email Support from Trail Tech - Aluminum Protectors (sold separately)
Trail Tech Striker Remote Switch (Optional)

The Remote Switch for Striker computer, 43cm black wire, optional, not included in computer kits. The remote switch mirrors the buttons on Striker. It is not required to enable any extra features.

Lap timer mode is designed for race riders and time trials. Hit the lap counter button each time around the track -- compare lap times on the fly with pace lights, or wait and review precise lap information afterwards. Remote switch required for lap timer mode.

Rally mode is for rally and enduro racing, which requires the rider to be able to adjust the trip distance meter quickly and easily. During rally mode, edit the adjustable distance meter up or down with the remote switch, while the main computer buttons function normally. Remote switch required for rally mode.

Striker Digital Gauge Protectors - Larger Images
Vapor/Striker Front Triple Clamp Protector (KTM) TT-022-SO - Mounts computer to front of triple clamp of most offroad motorcycles. Adaptable for mounting to any flat surface. (Computer sold separately)
Vapor/Striker Mounting Bracket, (KTM / Husaberg) Vertical Surface Attachment TT-022-OEB (Computer sold separately)

Vapor/Striker Top Mount Protector TT-022-TM - Mounting "ears" are even with the top of the protector. Fits 90-106mm bolt spacing. (Computer sold separately)

Vapor/Striker Indicator Light Dashboard Protector TT-022-PDA - Indicator dashboard protects the computer and places it in an optimum viewing position. Included mounting bracket (022-OEB) installs easily to triple clamp of most motorcycles. Includes 8 indicator lights for customization. (Computer sold separately)