Moose Racing Products:
Air Filters
Fender Packs
Kickstands -

KTM

/

Husqvarna
Replacement Fuel Pump KTM/HQV/HUS


Pannier
LARGE ALUMINUM PANNIERS 46 Liter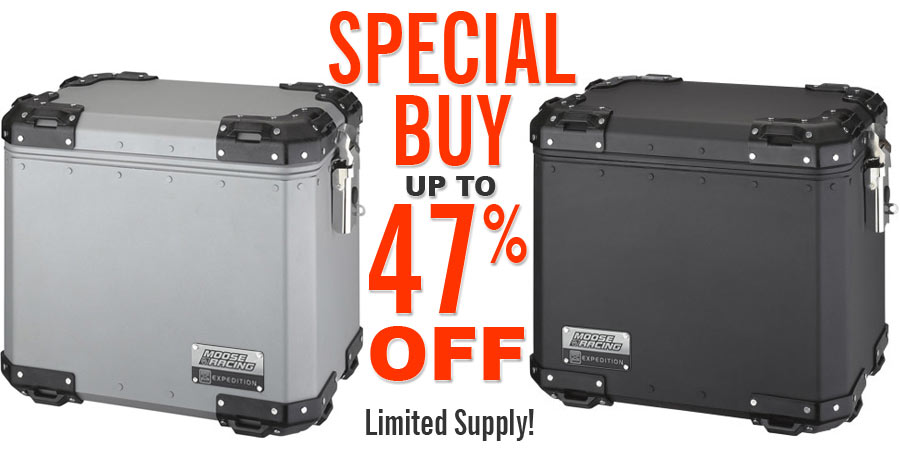 Dimensions: 17.8" L x 12.6" W x 15.4" H
Capacity: 46 liters
Weight: 10.4 lb.
Features:
Strong 6061 aluminum construction with 1.5mm thick walls that have been heat-treated to remove stress and improve durability

Rectangular silhouette with angled edges for extra strength and style

All components are pre-finished to be defect-free before assembly with stainless and aluminum rivets

Innovative stainless steel latch/hinge system that allows the lid to open forward, backward or be removed completely, and will accept optional tumbler-style key inserts or conventional padlocks for cargo security

Composite material top corner bumpers offer lash-down and accessory mounting points

The bottom corner bumpers have a special shape to reduce the chance of the luggage getting snagged on obstacles

Lids have an internal gasket and lip system, along with hardy sealant applied during wall construction, to make each bag a protective capsule from the elements

Each case comes with a lid organizer

Choose either a traditional silver or black powder-coated finish

This case measures 17.8" L x 12.6" W x 15.4" H; weighs 10.4 lb. and holds 46 liters

Sold each or set

USE YOUR OWN JUDGEMENT WHEN LOADING YOUR MOTORCYCLE. LIMITS MAY DEPEND ON EXPERIENCE, SPEED, TERRAIN TO BE COVERED AND WEATHER CONDITIONS.




SINGLE SILVER - Large Aluminum Pannier - 46 Liter Volume
Dimensions: 17.8" L x 12.6" W x 15.4" H, Capacity: 46 liters, Weight: 10.4 lb.



No returns on closeout items. Subject to prior sale.


CB-PANNIER

$229.99


MSRP $409.95



SET SILVER - Large Aluminum Pannier (Pair of 2 Boxes)
Dimensions: 17.8" L x 12.6" W x 15.4" H each, Capacity: 46 liters each, Weight: 20.8 lb.



No returns on closeout items. Subject to prior sale.


CB-PANNIERSET

$429.99


MSRP $819.90



SINGLE BLACK - Large Aluminum Pannier 46 Liter Volume
Dimensions: 17.8" L x 12.6" W x 15.4" H, Capacity: 46 liters, Weight: 10.4 lb.



No returns on closeout items. Subject to prior sale.


CB-PANNIER-BK

$229.99


MSRP $409.95



SET BLACK - Large Aluminum Pannier (Pair of 2 Boxes)
Dimensions: 17.8" L x 12.6" W x 15.4" H each, Capacity: 46 liters each, Weight: 20.8 lb.



No returns on closeout items. Subject to prior sale.


CB-PANNIERSET-BK

$429.99


MSRP $819.90



Mounting Hardware
HT-PANMNT-16 - Pannier Mount Kit 16mm $68
HT-PANMNT-18 - Pannier Mount Kit 18mm $68
HT-PANMNT-19 - Pannier Mount Kit 19mm $68
HT-PANCENTER - Pannier Centering Kit $7.50


$68
$7.50

Large Aluminum Panniers - Larger images
Mounts

Mounting Accessories