Klim
Jackets
Pants
Jersey
Gloves
Armor/Protection
Bags
Closeout Sale






Klim Bags
Availability Guide

: If you order an item that is on backorder, we will not charge your card until the order is ready to ship.

cyclebuy
= Normally ships the same business day
= Special order, ships in 4 to 7 business days
= On backorder from the manufacturer
| | | | |
| --- | --- | --- | --- |
| | Klim Scramble Pak | Cost | Add To Cart |
Scramble Pak
Dimensions: 4" x 6.5" x 27". The Scramble Pak is engineered to be a full-capacity enduro-inspired complete tool pack. Utilizing the convenience of a waist-mounted tool bag, the Scramble incorporates innovative tool organizing and security features to ensure the tool or part you need is there when you need it. Full-capacity tool pack in a waist belt chassis with additional storage so you can carry the necessities to get you through an extreme off-road race or through your favorite gnarly loop.
KLB-4011-002-000-600

$69.99
Nac Pak - Concealment
The proven Nac Pak is redesigned for bigger days of riding with enhanced ergonomics to keep you going longer. With the perfect combination of cargo capacity, accessory carrying capacity, quick access and intelligent tool storage, the Nac Pak is the bag riders continue to rely on. The redesigned Nac Pak carries your essentials for a full day outdoors or even a textbook and a small laptop for class. Hydrapak bladder sold separately below.
KLB-3319-005-000-000

$99.99
Nac Pak - Olive
The proven Nac Pak is redesigned for bigger days of riding with enhanced ergonomics to keep you going longer. With the perfect combination of cargo capacity, accessory carrying capacity, quick access and intelligent tool storage, the Nac Pak is the bag riders continue to rely on. The redesigned Nac Pak carries your essentials for a full day outdoors or even a textbook and a small laptop for class. Hydrapak bladder sold separately below.
KLB-3319-005-000-302

$99.99
Nac Pak - Gray
The proven Nac Pak is redesigned for bigger days of riding with enhanced ergonomics to keep you going longer. With the perfect combination of cargo capacity, accessory carrying capacity, quick access and intelligent tool storage, the Nac Pak is the bag riders continue to rely on. The redesigned Nac Pak carries your essentials for a full day outdoors or even a textbook and a small laptop for class. Hydrapak bladder sold separately below.
KLB-3319-005-000-600

$99.99
Nac Pak - Lime
The proven Nac Pak is redesigned for bigger days of riding with enhanced ergonomics to keep you going longer. With the perfect combination of cargo capacity, accessory carrying capacity, quick access and intelligent tool storage, the Nac Pak is the bag riders continue to rely on. The redesigned Nac Pak carries your essentials for a full day outdoors or even a textbook and a small laptop for class. Hydrapak bladder sold separately below.
KLB-3319-005-000-330

$99.99
Klim Hydrapak Shape-Shift 2L (68 oz.)
Smart design, meet peak performance – also known as the Shape-Shift Reservoir. Our time-tested creation for hydration on the go, it can take a serious beating, it fits nicely in most packs and it's fully reversible for easy cleaning. Durable, dependable form and function.
KLB-3194-000-000-000

$32.99
Klim Hydrapak Shape-Shift 3L (101 oz.)
Smart design, meet peak performance – also known as the Shape-Shift Reservoir. Our time-tested creation for hydration on the go, it can take a serious beating, it fits nicely in most packs and it's fully reversible for easy cleaning. Durable, dependable form and function.
KLB-3199-002-000-000

$35.99
Scramble Pak ----------
The Scramble Pak is engineered to be a full-capacity enduro-inspired complete tool pack. Utilizing the convenience of a waist-mounted tool bag, the Scramble incorporates innovative tool organizing and security features to ensure the tool or part you need is there when you need it. Full-capacity tool pack in a waist belt chassis with additional storage so you can carry the necessities to get you through an extreme off-road race or through your favorite gnarly loop. (KLB-4011-002-000-600)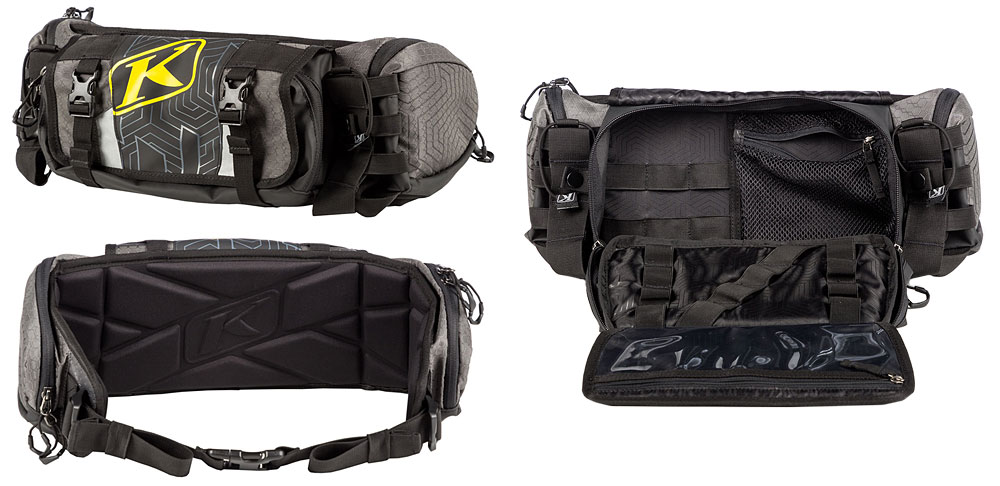 Scramble Pak Details:
HEAVY DUTY TOOL-ORIENTED HIP PACK

EXTERNAL DUAL WATER/OIL BOTTLE STORAGE (FOLDS AND SNAPS DOWN WHEN NOT IN USE)

ERGONOMIC MOLDED EVA BACK PAD

WATER RESISTANT MAIN COMPARTMENT

HIGH CAPACITY SECURE TOOL STORAGE

ULTRA-SECURE 1" ELASTIC TOOL ORGANIZATION STRAPS

ZIPPERED CLEAR MAP SLEEVE

ZIPPERED MESH POCKET

2 ZIPPERED HIP POCKETS WITH INTERNAL MESH POCKETS

CLOSURE STRAPS EXTEND FOR STRAPPING EXTERNAL CARGO

3M™ SCOTCHLITE™ REFLECTIVE MATERIAL

YKK® HEAVY DUTY ZIPPERS

CAN CONNECT TO QUENCH PACK

4" x 6.5" x 27"
Nac Pak ----------
The proven Nac Pak is redesigned for bigger days of riding with enhanced ergonomics to keep you going longer. With the perfect combination of cargo capacity, accessory carrying capacity, quick access and intelligent tool storage, the Nac Pak is the bag riders continue to rely on. The redesigned Nac Pak carries your essentials for a full day outdoors or even a textbook and a small laptop for class.

Nac Pak - Concealment (KLB-3319-005-000-000)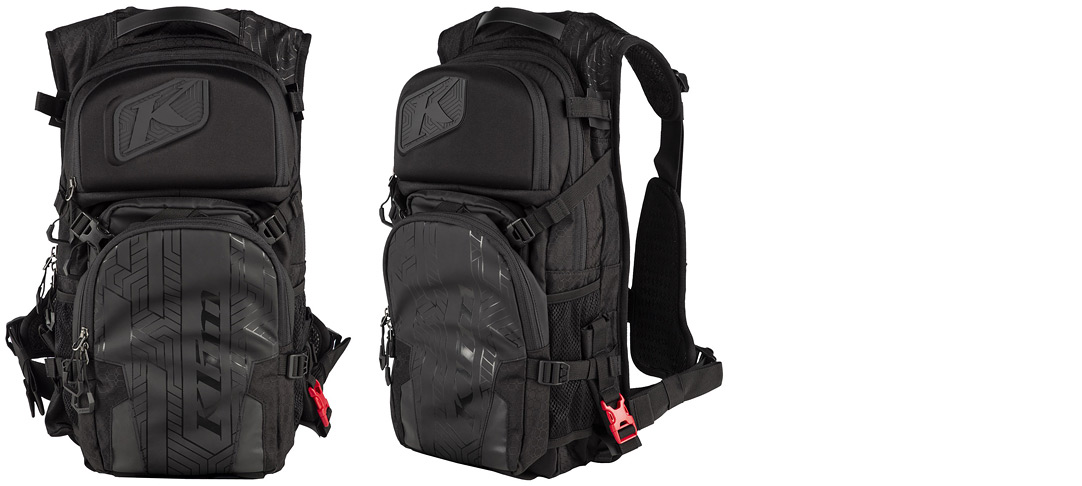 Nac Pak - Olive (KLB-3319-005-000-302)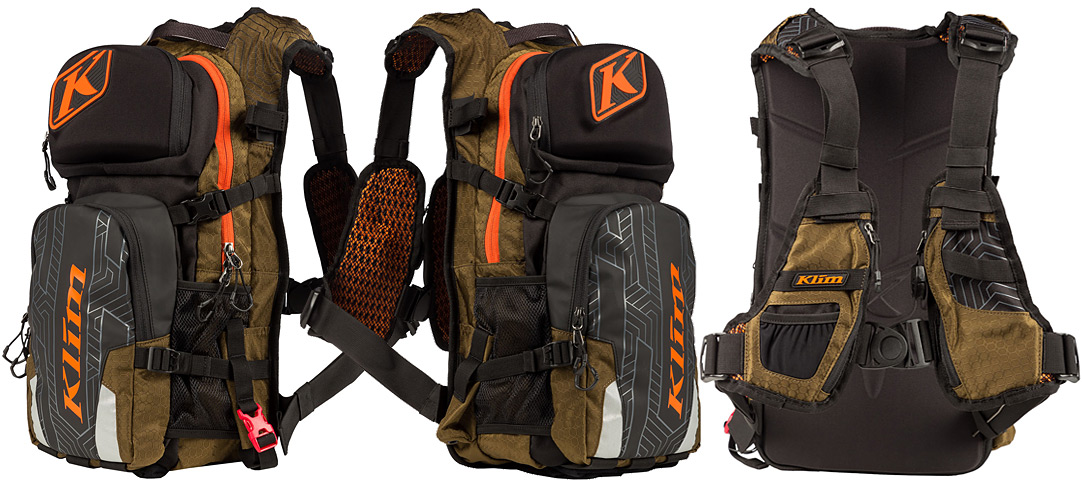 Nac Pak - Gray (KLB-3319-005-000-600)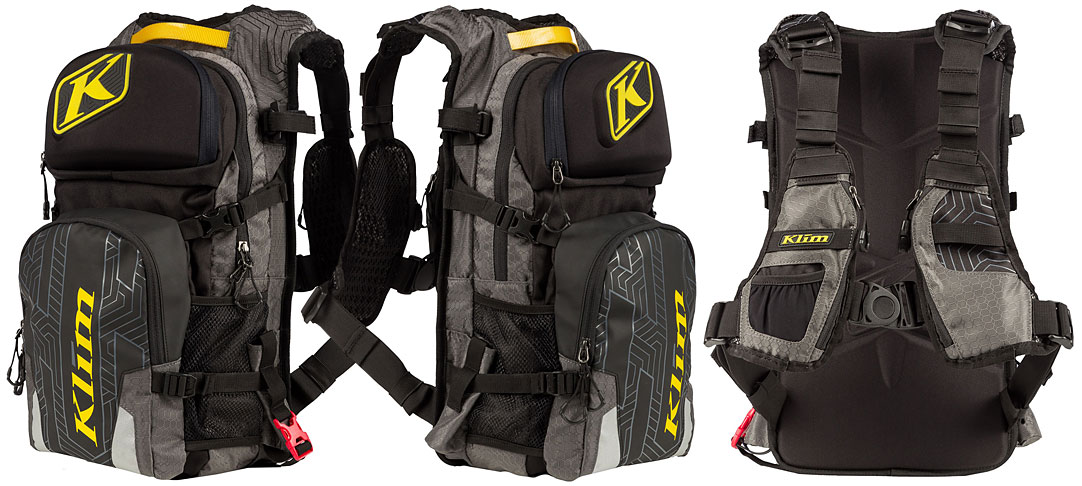 Nac Pak - Lime (KLB-3319-005-000-330)
Nac Pak Details:
MEDIUM SIZED POWERSPORTS BACKPACK

REMOVABLE WATER RESISTANT TOOL PAK

EXTERNAL SHOVEL AND PROBE STORAGE

LARGE ENOUGH FOR SMALL/MEDIUM SIZED LAPTOPS

3M™ SCOTCHLITE™ REFLECTIVE MATERIAL

NEW RACE INSPIRED SHOULDER STRAPS INTEGRATES INTO STERNUM AND SIDE STRAPS (NO HIP BELT)

BACK PANEL IS MOLDED AND VENTED

CUSTOM GLOVE FRIENDLY ZIPPER PULLERS

GOGGLE CHAMOIS IN MOLDED GOGGLE POCKET

COMPRESSION STRAPS

EMERGENCY WHISTLE

HEAVY DUTY NYLON CONSTRUCTION

INTERNAL ORGANIZER PANEL WITH KEY ATTACHMENT CLIP

HORIZONTAL TOOL BAG ATTACHMENT

HYDRAPAK® 3 LITER COMPATIBLE (SOLD SEPARATELY)

YKK® HEAVY DUTY ZIPPERS
Hydrapak ----------
Smart design, meet peak performance – also known as the Shape-Shift Reservoir. Our time-tested creation for hydration on the go, it can take a serious beating, it fits nicely in most packs and it's fully reversible for easy cleaning. Durable, dependable form and function.
Klim Hydrapak Shape-Shift 2L
SPECS:
Capacity: 2 L / 70 fl. oz. Unlocked, 1.5 L / 50 fl. oz. Locked
Weight: 135 g / 4.7 oz.
Dimension: 330 mm / 13 in X 165 MM / 6.5 IN
Material: THERMOPLASTIC POLYURETHANE; HDPE; SILICONE
Klim Hydrapak Shape-Shift 3L
SPECS:
Capacity: 3 L / 100 fl. oz. Unlocked, 2.5 L / 84 fl. oz. Locked
Weight: 152 g / 5.3 oz.
Dimension: 440 mm / 17 in X 165 mm / 6.5 in
Material: THERMOPLASTIC POLYURETHANE; HDPE; SILICONE
Klim Hydrapak Shape-Shift Details:
SHAPE-SHIFT™ BAFFLE LOCKS FOR A SLIM PROFILE AND INCREASED STABILIZATION; UNLOCKS FOR FULL VOLUME AND REVERSES FOR EASY CLEANING

SLIDE-SEAL™ TOP OPENS WIDE FOR EASY FILLING AND CLOSES TIGHT FOR A LEAKPROOF SEAL

HIGH-FLOW BLASTER™ BITE VALVE SELF SEALS AFTER EACH SIP AND FEATURES A TWIST ON/OFF BAR TO PREVENT LEAKS WHEN NOT IN USE

PLUG-N-PLAY™ CONNECT SYSTEM LETS YOU EASILY DISCONNECT THE DRINK TUBE (AN AUTO SHUTOFF VALVE PREVENTS LEAKING) AND REMOVE THE RESERVOIR FROM YOUR PACK FOR CONVENIENT REFILLING

FULLY REVERSIBLE FOR EASY CLEANING AND DRYING, TOP-SHELF DISHWASHER SAFE

MADE OF ULTRA-DURABLE, ABRASION RESISTANT TPU AND RF WELDED SEAMS FOR SUPERIOR DURABILITY AND ELASTICITY

CAN BE FROZEN OR FILLED WITH HOT WATER (MAX TEMP 60° C / 140° F

SAFE AND RELIABLE, 100% BPA & PVC FREE